This past week a lot more Echinacea started flowering, which meant we had plenty to do. We located all the Echinacea plants in the Common Garden that will flower this year. There were so many! They seemed to be particularly abundant in the 99 garden.
We also completed some more aphid surveys for Katherine's project, continued work on the New Media Initiative, and set insect traps for Greg's project. I really enjoyed taking a quick peek at some of the insects that Greg's traps caught. I don't have tons of experience with insects, so I don't know what genus any of them are yet, but some of them looked pretty nifty. I'm looking forward to finding out more about them.
My own independent project is coming along as well. I've been spending quite a bit of time this week working at the dump! For those of you who aren't familiar with the prairie remnants we're studying, I should clarify that I'm not actually working in a garbage heap. There are some little hills that haven't been used for agriculture because they are within the landfill's property, but they're not really close to all the trash either. As a result, they are covered in beautiful native prairie species! (And when the wind's coming from the right direction, it doesn't even smell bad!) Two of the species I'm studying grow there, Coreopsis palmata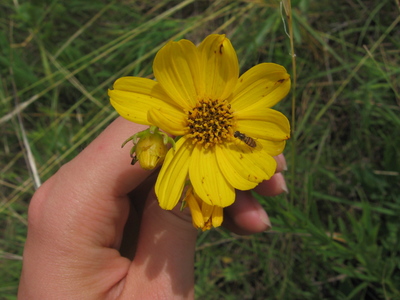 and Heliopsis helianthoides.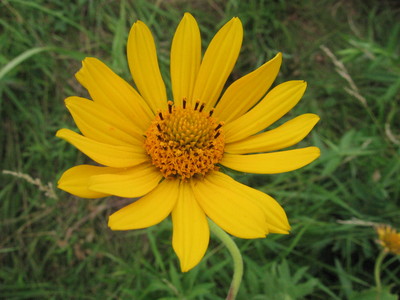 I've started doing pollen crosses, with mixed results. On the Heliopsis, it looks like styles shrivel after receiving outcross pollen (suggesting they have been successfully fertilized), but not after receiving self pollen. I had a harder time seeing what happened to the styles on the Coreopsis I crossed because when I went back to check on them two days later, some of the flower heads had started falling apart. (As Amber Rae put it, "The Coreopsis are losing their heads!") Stuart says that this is unusual though, so hopefully the heads I use for crosses this coming week won't fall apart and I'll be able to get some clearer results.