The diversity and abundance of bees native to the tallgrass prairies of Minnesota are declining; one potential reason is changes in how land is used and managed. Native bees provide vital pollination services to our native prairie plants as well as agricultural crops. It is important to understand the factors involved in the decline of pollinators so they can be combatted and our plants be protected. In summer 2019, the focus of the Pollinators on Roadsides project was to collect bees using yellow pan traps and to take into account the burn history of the collection sites. We investigated the burn history of the collection sites to compare the bee collections from the last three years and determine if there is a relationship between burning and pollinator community composition. Thanks to local government records, inquiry with private land owners, and observation of recent burn evidence we discovered which of the 38 sites had a history of prescribed burning.
In summer 2019 Shea Issendorf and John Van Kampen collected a total of 422 bees from 38 yellow pan traps placed six times throughout the field season (June 28, July 11, July 18, July 31, August 8 and August 19). Trap locations include different land types such as agriculture, restored prairie and developed land. We determined the burn history of the trap locations in the last three years (2019, 2018 and 2017,) and whether the burns occurred in the spring, fall or both. We stored the bees in in vials of ethanol in freezers until they were pinned by Shea Issendorf and Mike Humphrey. We found that a lunchbox with ice packs could comfortably hold all the vials from a collection date for transportation from the field to the CBG.
The design and goal of this experiment is based on the original 2004 experiment by Wagenius and Lyon. They studied the relationship between characteristics of land and the abundance and diversity of pollinators. Using the data that came out of 2004, the reboot in 2017, and the continuation throughout 2018 and 2019, we observe how pollinator abundance and diversity has changed. With this valuable evidence of declining native pollinator communities, there is opportunity to change the way in which natural lands are used and how surrounding lands are treated (such as through burning, herbicide application and fragmentation).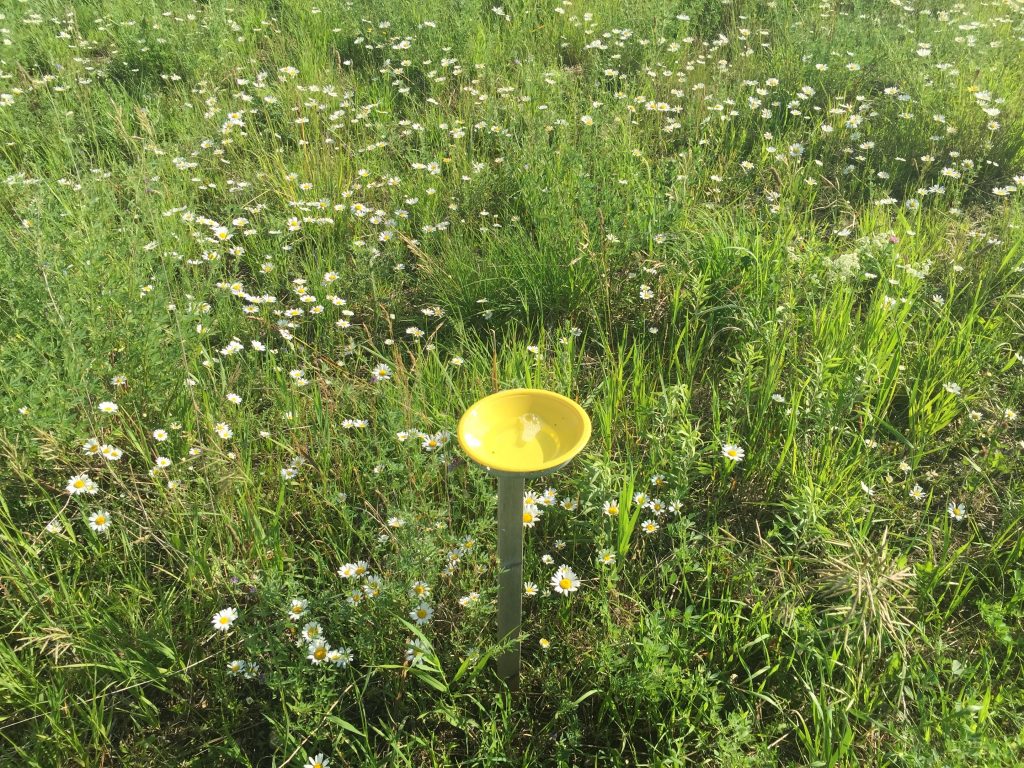 Start Year: 2004, rebooted 2017
Location: Roadsides/ditches around Solem Township. GPS coordinates for each trap are in a Google Map which Stuart Wagenius can share as needed.
Overlaps With: Ground nesting bees
Data/Materials Collected: 386 bee specimens collected; currently dried, pinned and stored at the Chicago Botanic Garden. Specimens will be classified by Mike Humphrey before being sent to the University of Minnesota for further identification
Pinning records:
~Dropbox\teamEchinacea2019\sheaIssendorf\YPT 2019 Si\Si_YPTdatasheets2019.xlsx
Land uses/7 traps that have burn history within last 3 years:
~Dropbox\teamEchinacea2019\sheaIssendorf\YPT 2019 Si\YPT trap land uses 1.xlsx
Other files associated with the project can be found in the folder
~Dropbox\ypt2004in2017\YPT2019
Team Members involved with this project: Shea Issendorf (2019), Mike Humphrey (2018-2019), John Van Kampen (2018-2019), Kristen Manion (2017-2018), Evan Jackson (2018), Alex Hajek (2017), and Steph Pimm Lyon (2004)
You can read more about pollinators on roadsides, as well as links to prior flog entries mentioning the experiment, on the background page for this experiment.