We dove right into work this Wednesday morning. The first task of the day required our whole team to gear up with flag bags, meter sticks, and visors and trek down to experimental plot 1, where a few of us were taught, and others were reminded, how to actively search for and measure Hesperostipa spartea, or Stipa as we referred to it. We paired up and as small teams did our best to locate either the very small and narrow blades of basal Stipa plants or the more obvious awns of the flowering Stipa. Micheal and I tackled rows 39 and 19, and while hoping to identify more plants, with the help of our active search skills, we were able to spot and measure 1 basal and 4 flowering plants. I learned a lot from Micheal as we "searched for grass in the sea of grass" and I appreciate his willingness to teach. I'm referring to a couple locations when he would abruptly stop his stroll, give me a look out of the corner of his eye, and wait for me to spot the plant that he had just found. Micheal, thank you for your patience! We used our visor to record the location of each plant and the measurements that pertained to it such as culm and fruit count, along with aborted and missing fruit counts. We aim to continue this search in the next day or two in hopes that cloudier conditions and more experienced searchers will result in more Stipa measurements for our 2019 data.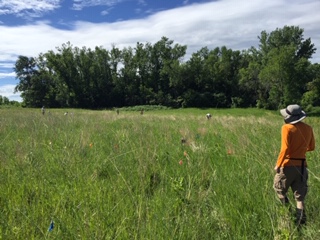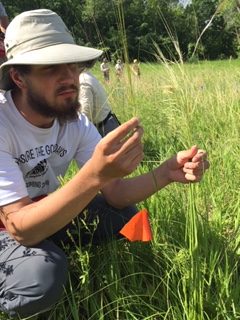 Amy Dykstra graced us with her presence in the field as well today and gave a post-lunch presentation on her dissertation work and some ongoing studies. Amy asked a lot of great questions in her research and was able to connect them to her findings regarding the future success of Echinacea Angustifolia in fragmented prairie. Her research gave me a lot to think about regarding the Echinacea project's history as a whole and more specifically, the impact that prairie fragmentation makes on the genetic diversity of our prairie remnants. It's presentations like Amy's that are helping me continue to learn and develop my own proposal for this summer.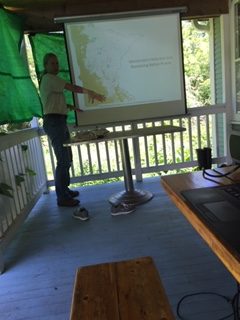 Last but not least, John and I were eager to get out and stake this afternoon for our yellow pan trap experiment. We have 38 sites within a 5 mile radius of the Hjelm house, and at each site we will have one flagged stake for catching bees. John and I were excited to take out the infamous Darwin (the Echinacea project's GPS device) to stake our sites. We got about halfway done and will have to finish up tomorrow, but we're excited to start catching and eventually pinning and identifying our local pollinators. We'll keep you updated on what we find, but in the meantime we'll be cruising the countryside in a van, with Darwin.