Echinacea plants on our transect at Staffanson Preserve are done shedding pollen for the year. A few still have persistent, receptive styles, but August 18th was the last day pollen was shed.
This graph show how many heads (left panels) or plants (right panels) finished on each day. The earliest heads finished on 15 July. I divided the preserve according to the burn unit: burned East (top panels) and unburned West (bottom panels):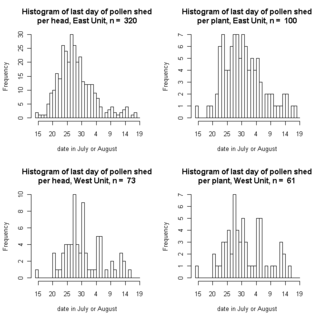 Final date of flowering for 393 heads on 161 Echinacea plants
from a burned and unburned unit of a prairie preserve
This graph is based on preliminary, raw data, but I wanted to share. Click on the thumbnail to see a larger version of the graph.