Thank you all for your hard work when we measured my Hegg Lake common garden a week back. It was by far the fastest the Hegg garden was ever measured and there were no rechecks besides can't finds! Below is some information regarding the Hegg garden.
Total plants planted in May 2006: 3,945
Number alive in August 2006: 3,699 (94%)
Number alive in August 2007: 3,320 (84%)
Number alive in August 2008: 3,008 (76%)
Number alive in August 2009: 2,834 (72%)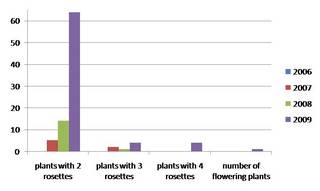 As you can see the length of the longest leaf actually decreases from 2008 to 2009. However, there were way more plants with multiple rosettes this year than in years past. I think the leaf length decreased because last year there was so much duff on the ground that the petioles of the leaves grew really long. The plants definitely looked healthy this year after the spring burn than they did last year. What was really exciting was I had my first flowering plant this year in row 7 position 44! Below is a picture of that flowering plant, and one of everyone measuring at Hegg.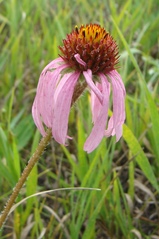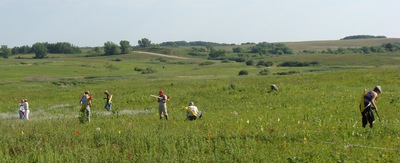 Also, thank you to everyone in the town hall for being so hospitable to my dad, Oscar, and me. We had a great week and except my weird heat rash (it eventually went away) it was a lot of fun. Best of luck with the final push at the end of the season!
Regards,
Jennifer, Oscar, and John