Based on the flog, it may seem that the lab activity has been consumed with counting seeds and identifying ants. However, I should point out that there are some real live plants in the lab as well.
Maria has been lovingly tending her Dicanthelium plants that she germinated last fall. One of the perks of working at the Chicago Botanic Garden is the high-tech growth chamber that allows you to control light, temperature, and humidity on a programmed schedule. Maria has programmed the chamber to approximate fall in Minnesota.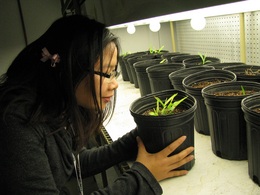 Any one at CBG can use the growth chamber for their research. Anna Braum, a grad student at Northwestern, is growing host plants for her experiment on the parasitic plant Castilleja coccinea–also known as the indian paintbrush. Here she is watering her plants (with help from Maria).