Last week I assessed Echinacea flowering phenology at Grand River National Grassland south of Lemmon, SD, Samuel H. Ordway Prairie west of Leola, SD and Staffanson Prairie near Kensington, MN. Here are a couple of figures I generated to compare phenology at the 3 sites.
First, I made pie charts to show the relative proportions of flowering plants.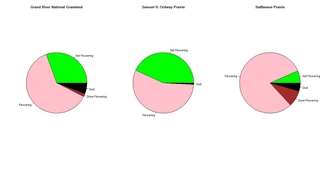 Next, to show more quantitative information, I used a stacked bar graph.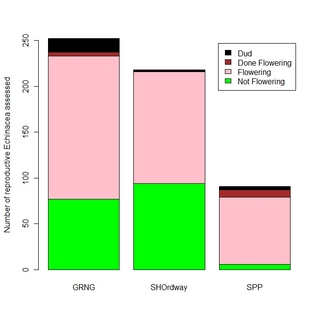 These figures illustrate that the flowering phenology is most advanced at Staffanson and least advanced at S. H. Ordway Prairie. Nevertheless, I am encouraged that there are lots of flowering plants at all 3 sites, suggesting that a long-distance cross involving plants from these 3 locations would be possible. I am considering tackling that project next summer, to assess whether there would be lower seedling recruitment from between-population crosses compared to within-population crosses at these 3 sites.
Here's a picture of some flowering Echinacea at Perch Lake, which is near the S. H. Ordway prairie.