We wrapped up the week with a productive Friday. In the morning Kory headed out to Hegg Lake, while Sarah assessed phenology in the common garden (I think we were down to 75 heads today). Ilse and I have been slowly repainting the heads in the qGen2 crossing experiment. Nothing is ready to be harvested from the experiment yet, but it's good to revisit the plants and stay ahead of any paint flaking off. Even without painting the entire head (a mistake I was making earlier this week) it's still a slow process. Here's one I finished today. I still may be going a little excessive with the paint…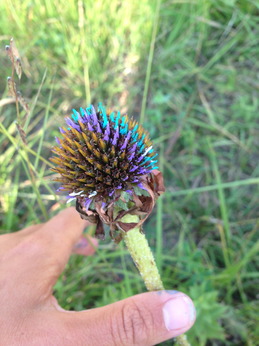 Before lunch we all weeded the common garden for any leftover thistle and birdsfoot trefoil. We managed to pull quite a bit of thistle but didn't find any trefoil. A good sign? After a quick lunch we split up and went to the remnants Steven's approach and Riley to finish up the last three seedling searches. We all went our separate ways after that: Ilse continued to re-paint heads, Kory edited the last of his pollinator videos, and I finally finished my "re-checks" in the common garden (I seem to be the slow poke of the group). I also began taking pictures of leaves in the aphid addition/exclusion experiment to count trichomes and see if there are any differences between treatments. I'll keep everyone posted as that progresses.
Have a good weekend!