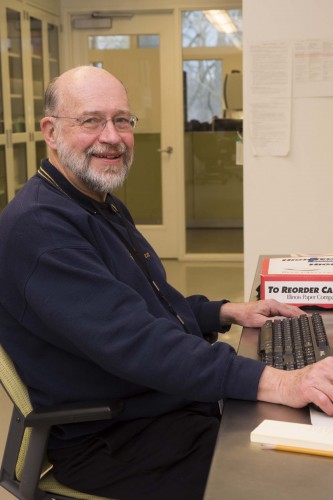 Team Echinacea lost one of our longtime members, Bill Wallin. Last week Bill went to the hospital for pain associated with cancer and his health deteriorated quickly. He died on Monday surrounded by his family.
We will miss Bill a lot. He volunteered on Thursday mornings and has been an integral part of our team for over a decade. He was a hard working and dedicated citizen scientist and a great person to have in the lab. He was thoughtful and considerate and contributed to the ongoing discussions in the lab on wide-ranging topics. Bill was usually soft spoken and quick to smile. He would share stories of his adventures with pianos and more recently of his cancer. Through thick and thin, we could count on Bill to be a positive influence on the Team.
Bill contributed to all aspects of lab work with the Echinacea Project. In the past several years, Bill focused on counting achenes. We appreciated Bill for his speed and accuracy when counting. Since we moved to our online seed counting system in 2011, Bill has counted over 413,430 Echinacea achenes. Before joining the Echinacea project, Bill pulled weeds in natural areas at the Garden and monitored threatened plants for the Plants of Concern Program.
We will miss Bill, but we are grateful that we got to work with him and enjoy camaraderie while making contributions to plant science and conservation. We will forever have great memories.
Here is Bill's profile from 2015 and some more posts with photos of the team and of Bill.
---