This week marks several milestones in the lab. First, the volunteers completed randomizing and weighing achenes from the 2011 harvest of a large experimental plot planted in 1999. This experiment looks for genetic differences among maternal populations by combining their offspring in a common environment and measuring a variety of traits, including seed set. Weighing is the last step in data collection for this experiment. Although we have a long way to go in processing 2011 data for other experiments, we are making good progress.
Another milestone this week is the launch of our new online data entry system for achene counts. Bianca Rosenbaum, the web developer at the Chicago Botanic Garden, has created an interface that allows volunteers log into the website, open scanned images, and enter data into a web form. In addition to doing away with paper datasheets, this will improve our ability to catch mistakes, such as mis-labeled scan files. Anne Coughlin was the first volunteer to try the new system.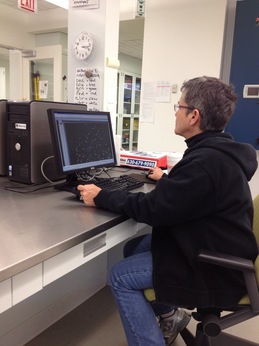 In other news, intern Jill Pastick has begun the pre-germination phase for an experiment assessing the growth of Echinacea angustifolia x pallida hybrids. This will add to Shona Sanford's work on style persistence and seed set of hybrid crosses. Click the link to read about Shona's most recent findings on Echinacea hybrids: (https://echinaceaproject.org/wp-content/uploads/2013/02/more-work-with-e-angustifolia.html).