It's the start of a new week for Team Echinacea. This morning was jam packed with phenology and crossing. We're past peak flowering at this point which is making phenology go quite a bit faster, however we're definitely in the midst of peak crossing. Ilse and I printed off nearly 25 pages of crossing information, and together Team Echinacea probably visited three quarters of the plants in the crossing experiment today. Wowee!
The afternoon was spent (as many afternoons recently) crossing and measuring the common garden. After lunch we did spend an hour pulling thistle, which was surprisingly more enjoyable than it sounds (gloves helped). Kory got the record for largest thistle with this bad boy.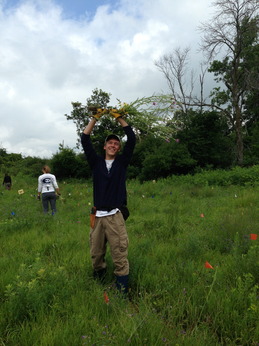 Marie made some delish baked mac n cheese with a side of broccoli puree for dinner and the mayor of Kensington stopped by to alert us of construction due next week. Not a bad Monday.