Happy Tuesday, everyone! Weather was as usual today, meaning erratic. In the morning, it rained really hard for about half an hour and then we were left with sunshine. In the afternoon, we started with sunshine and ended with rain! We still managed to get a lot done, though. Good job, team!
In the morning, people did data entry while it rained and then individual projects and common garden work when it cleared up. We all met up for lunch and then spent the afternoon measuring more plants in the common garden. The leopard frogs seemed to love the weather and were everywhere today. So cute!
In other news, Marie found a love for thistles and has proclaimed herself a "thistle whisperer."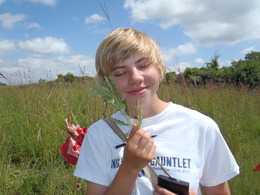 We all went home early due to rain and a tornado warning (we're all safe, thankfully). Lydia made a delicious dinner of black bean burgers and potatoes which was awesome!
Another good day, even with the crazy weather. Now, it's time for bed. Goodnight!
Sarah B