Today was a cool day! High temp of mid 70s.
Ruth and Amy came up from the Twin Cities, to give us a jumpstart to Seedling Refinds.
We overcame some technical hurdles with DroppedBoxx on Sulu and Chekov (our two lovely GPS units), and started seedling refinds at Steven's Approach in the morning, worked way past lunch hour before Stuart called timeout.
We had lunch supplemented generously with bounty from the Wagenius family garden – juicy chestnut crabapples, ripe sweet cantaloupe, and cool yellow watermelon!
After lunch we stopped by the road outside CG2/Jennifer's Plot at Hegg Lake, and harvested Bouteloua. We will broadcast the Bouteloua seeds in CG2 after the burn if DNR decides to burn the plot; otherwise we will broadcast half the seeds in the fall and half in spring.
Then we resumed seedling refinds at Steven's Approach. We solved some tricky mysteries with the seedling maps, and completed Steven's Approach! We also found a couple of flowering plants that had been missed during demo.
While we were doing all that, Karen was working hard at her independent project. The searching and keying paid off as she found a third species of Helianthus, H. tuberosus, at Hegg Lake.
Here's an unrelated picture of a pheasant's nest near my Dichanthelium plot. The pheasant mum and I often startled each other during those mornings when I did fieldwork.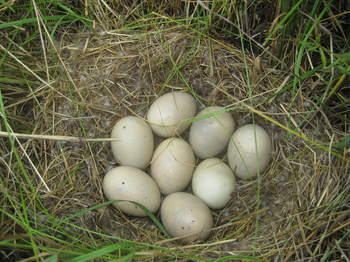 Look, a pheasant egg!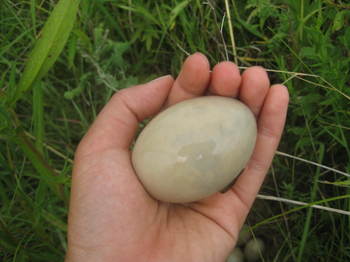 And I know you'll forgive me for posting yet another picture of Dichanthelium 😀