Tuesday was a cool, windy day with scattered rain showers. In the morning we descended on KJ's, a small site chocked full of Echinacea, to check on seedlings in Amy's recruitment study. We made some progress, but we have a long way to go at that site.
In the afternoon, we all crammed into the pickup truck and rode over to Krusmark's, an isolated site near the Wagenius property. Maria was especially excited to ride in the truck bed. We collected demography data on flowering plants and gathered seed from sideoats gramma grass (Bouteloua curtipendula) to scatter in the main experimental plot.
Since there were not many flowering plants, we finished up in time to catch up on chores around the field station. Here's the Wagenius kids helping Shona clean up after her pollination crossing experiment. She and several others developed a wire contraption to keep the pollinator exclusion bags away from the anthers.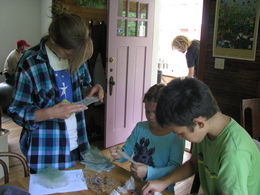 It is bittersweet to see a good summer coming to a close. Lydia left on Sunday, Andrew's leaving on Wednesday, and Shona will head out on Friday. Although we are sad to see them go, we have plenty of work to distract us from our sorrow.