Howdy folks,
Maria reporting from K-town.
Sunday we had a real day off =)
The weather was good and sunny, but not too hot.
Random tidbits from the town hall:
Shona made oatmeal pancakes for breakfast – they were really yummy – thanks Shona!
Kelly and Shona went swimming at Elk Lake and bumped into the Wagenius family
Katherine found a new trail in the forest at the Runestone Park on her biking adventure
Andrew had a great time at home and arrived at the town hall before 11pm
Lydia spent the day helping out in the kitchen at the camp in Alexandria
I made Irish Soda Bread to use up some sour milk, but still have ~1 cup sour milk (turned into buttermilk substitute, any ideas what to do with it? Pancakes would be easiest, but we just had them)
After the weekend break, it's time for work again! Monday (today) we divided and conquered.
AM – Greg set out his yellow pan traps in his remnants. Stuart, Katherine, Jill, Lydia and I did demo in the remnants. Ruth and Greg came to join us. We found many Echinacea flowering at Loeffler's Corner East, an okay number at Loeffler's Corner West, 2 at Railroad Crossing (Douglas County), and ~6 at Yellow Orchid Hill.
The others (Shona, Kelly, Andrew) did CG1 rechecks and then worked on their independent projects.
Ruth bought some delicious fluffy spongy chocolate cake which we cleaned off the dish.
PM – The two teams switched jobs. Stuart led Shona, Kelly, Andrew, Ruth and Greg in demo at KJs and On 27. The rest of us did CG1 rechecks, and then worked on independent projects.
Here's a file called "Crash Course in R", which might be helpful to folks
crashR.2.pdf
Now for some photos!
Flowering Dichanthelium!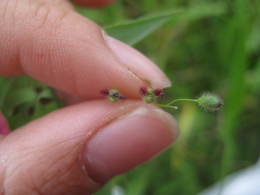 I think this is a super cool picture as it shows 3 stages of Dichanthelium stigmas/anthers emergence. See how the bottom-most spikelet has the stigma just emerging, while the anthers are still inside; the middle spikelet is open and has both stigma and anthers well-exserted; and the top spikelet is closed and the anthers are drooping out from the spikelet.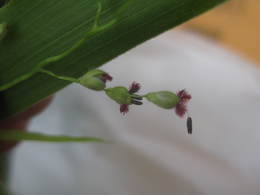 Last but not least here's an epic picture from our bonfire last year 😀