Whoops! Looks like I forgot to post about Tuesday yesterday… Well, better late than never.
Yesterday, the morning started out with personal projects and assessment of flowering phenology in the common garden. The weather was hot and muggy and there was a heat advisory warning but we were not to be deterred!
The afternoon was spent measuring the E. angustifolia in Amy's Plot at Hegg Lake.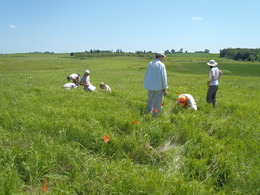 It was difficult work, but we managed to finish by the end of the day and were rewarded with delicious root beer floats!
Sarah B