I just posted photos of prairie insect specimens from our collection, including many bees that pollinate Echinacea. Enjoy!
Here's a photo of a specimen of Andrena rudbeckiae (Female). Click to enlarge.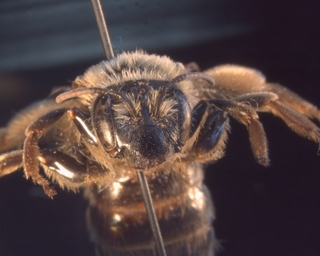 So, there is a lot more to do to improve the web interface to these photos. Let me know your suggestions!
The pages are static html right now. Bianca, CBG science web design hero, made a dynamic version using MySQL and PHP. Her way is the way to go. However we don't have a good permanent home for a MySQL database: UMN won't allow phpMyAdmin, Bianca's software of choice. And CBG doesn't really support websites for scientists (yet).
More photos will follow and we'll post more info for each specimen too. I hope to make these update when we have a dynamic, public site, but wanted to get something out now because I am submitting a paper that refers to these specimens.