Hello Everyone!
Today was a very nice day today. There were clear skies, it was sunny, there was just enough wind to keep the mosquitos at bay, but no pollinators. Up at Hegg Lake the wild Monarda have started blooming in force, along with the swamp milk weed (which is shown below).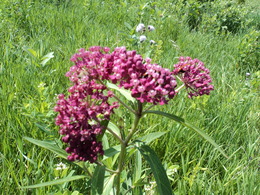 In the morning Sara and Sarah went out to work on their individual projects, while Lydia, Marie, Gretel, Ilse, Per and Hattie worked on phenology.
In the afternoon Gretel, Lydia and Ilse worked on the QGen- which meant continuing the pollenating that has been going on since flowering began. Myself, Sarah, Sara, and Marie started and finished measuring the echinacea in the INB2 garden! Woot!