I've attached some goodies for everyone today, which are strategically placed at the end of this post. I am heading back to California on Tuesday and this will be my last flog post. I am go grateful to have been given this opportunity and I will miss lovely meals, Gretel's chocolate cake, and all of the wonderful people I've met. I could list many other things that I will miss, but I suspect everyone is anxious to get to the sweeter section of this post.
AKA: EVERYTHING ANYONE COULD EVER WANT/NEED TO REPEAT THE POLLINATOR EFFICIENCY EXPERIMENT
My original proposal (with preliminary protocol):
Pollinator Efficiency Proposal 2014 .doc
Revised Procedure:
Pollinator Efficiency Procedure.doc
The observation datasheet we used in the field:
PolObDatasheet_2014.xls
Observation Data for P1:
PolObData_P1_2014_Final.xls
Observation Data for P2:
PolObData_P2_2014_Final.xls
Video ID Data for 2014 in P1:
P1_videoIDdatasheet_2014.xls
Video ID Data for 2014 in P2:
P2_videoIDdatasheet_2014.xls
Video ID Data for 2010, 2012, and 2013:
VideoIDdatasheet_2010-2013.xlsx
Metadata for Datasheets:
Metadata for videoIDdatasheet_2010-2013.doc
Metadata for PolObData_P2_2014_Final.doc
Metadata for PolObData_P1_2014_Final.doc
Metadata for P2_videoIDdatasheet_2014.doc
Metadata for P1_videoIDdatasheet_2014.doc
Dataset used for Analysis:
Taxon_Styles_Years.csv
R-File for Statistical Analysis (thanks in large part to Jennifer/Jared):
MLP_Pol_Eff_Analysis.R
My CBG Presentation:
Pol_Eff_Presentation_MLP_2014 (1).pdf
An Abstract (which could be sent to funders):
Maureen Page Pollinator Efficiency Abstract.doc
PLUS HERE IS A PICTURE OF A MONARCH!!!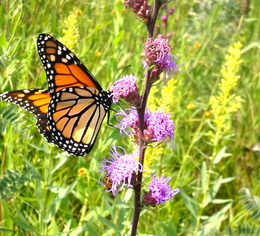 I hope everyone enjoys their summer and I'm excited to see what happens in the months and years to come!
Cheers!
Maureen Page.